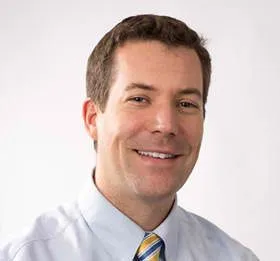 My passion for dentistry comes from my daily interactions with my patients. Every patient brings a unique story and perspective and I truly enjoy the interaction. I feel that knowing people and establishing a trusting relationship helps me serve you better.
I always want to make all of my patients comfortable in my care, so when you come in, smile, and share what's new in your life, I know I am doing something right.
As a dentist, I strive to educate my patients about the connection between oral health and whole body health. Understanding this inter-relationship allows you to value your oral health and make good decisions that affect your entire body. It gives me great satisfaction when I know my patients are going to have a better life using knowledge we have shared.
My Education and Commitment to Continuing Education
My college education began with an interest in marine and freshwater biology so anyone who has fish stories is welcome to share them in my office. I earned my Bachelor's degree in Marine and Freshwater Biology, as well as, my Master's degree in Zoology at the University of New Hampshire, so Wildcat tales are welcome also.
After completing my Master's degree in Zoology at UNH, I attended the University of Connecticut School of Dental Medicine where I received my Doctorate of Dental Medicine (DMD). I completed my General Practice Residency (GPR) at Hartford Hospital and have not looked back.
I returned to the Seacoast of New Hampshire in 2010 when I took a position at JD Howard Dental in Dover, NH. After five great years of treating patients, I decided to fulfill my dream of opening my own practice and have been on my own since 2015.
I know that in order to provide patients with the most up-to-date and effective options for their care, I must know what is at the forefront of research and development. Therefore, I continually seek out and participate in continuing education offerings at the local, regional, and national levels.
Professional Memberships
Family Life
As the son of a military physician, I moved around a bit, but I spent most of my childhood in Augusta, Georgia. I married the love of my life in 2005 and now have three wonderful sons.
When Lisa and I are not working, you can find us spending as much time outside as possible. I love to fish and am trying to get my boys as interested in fishing as I am. I think I have found a happy medium between my passion for dentistry and my love of my family. My family keeps me grounded, but my profession keeps me constantly striving for perfection. I can't think of a better way to live!